About Lionel
Lionel Charles Mortimer was born in 1896 at his grandmothers' home in Morgans Vale and grew up in Salisbury having been baptised in St. Thomas's Church in Salisbury city centre where his parents had also got married. As was common in the early 1900s, Lionel's family moved to various addresses around the city with his brothers and sisters, Ethel, Winifred Elsie (who was the mother of Percy, the Cow Walloper) Henry and Thomas. From around 1896 they lived at 105 Culver Street and in 1911 they lived at 19 Pennyfarthing Street.
Lionel was 17 yrs old when war was announced and he signed up for the Army on 19 September 1914 with his brother Thomas and his uncle George Bert. Lionel was trained at Tidworth (see official regimental picture taken at Tidworth Garrison and also the picture of a garrison football team with the words CON'S, B COY, U. HUT painted on the football). Lionel was sent with his Battalion to India, (see picture of Lionel with his Regiment in India with their Topee's – a uniform hat designed for wear in hot countries, placed on the ground in front of them). Lionel was then sent as part of re-inforcements to join the 5th Wiltshire Battalion at Gallipoli and saw action in the Balkans 'Theatre of War' where he was wounded.
Here is an  account taken from the Regimental Museum, of  how the battalions Lionel served in were deployed during 1915:
1st & 2nd/4th Battalions
The 1st/4th and 2nd/4th spent 1915 in India on Garrison duties, but did supply a number of men as reinforcements to front line battalions in other theatres of operations.
5th Battalion
In July 1915 the 5th (Service) Battalion set sail for the Dardanelles and by the 17th were all ashore at Cape Helles, on the Gallipoli Peninsula. Two days later they were in the trenches facing the Turkish Army. On the 6th August they took part in a night attack to capture a ridge of hills to assist the British landing at Suvla bay. The following day they took part in the attack at Sari Bair. This was a successful attack, but the response was fast and very violent. They were attacked by a Turkish Division led by Mustapha Kemal; the battalion was overrun and half the men were never seen again.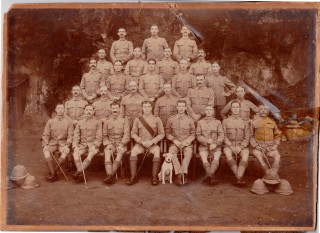 Lionel was sent to India with the 2nd Battalion in 1915.
At the End of the Great War
Lionel was discharged from the Wiltshire Regiment, C. Corps, as a Private on the 10 October 1919, his medal card read  xvi sick 23 (a) (1) he was awarded the Victory Medal, 1914-15 British Star Medal and the British War Medal.  Lionel suffered from curvature of the spine as a result of a shrapnel wound and his back was 'hunched' for the rest of his life. When he returned from the war he worked as a plasterer with his father and then later as a Policeman at the Ministry of Defence Establishment at Porton Down (he never drove, he cycled everywhere). He married Helena Bullen, at Kingston Registry office in 1923 having somehow met her in Wimbledon where she lived with her family, see the photo of her in her war-time Uniform. Helena was 'in service' to the Kitchener family and during the war, family 'lore' states that she drove for Lord Kitchener. Lionel and Helena moved to Salisbury and lived in Roman Road, Bemerton in 1924 and then 38 Kelsey Road before Nelly's (Helena's) brother Bob who worked for the Shell Oil Company lent them the money to buy the show home on a row of new houses being built in London Road. Lionel worked with his father as labourers on the new houses. Lionel and Helena settled in London Road for the rest of their lives. In the Sixties, Lionel took a job as Storeman for the Russell & Bromley Shoe Store when it took over from Moores Shoe Shop when the New Canal was built in 1965 and where he was affectionately known as 'Ernie'. He never spoke of his experiences in the war, perhaps because during the Balkans Conflict (his first real experience of war) so many of his comrades were killed.
For more information on the Wiltshire Regiment you can visit the Wardrobe in the Cathedral Close, or browse their website here